Have you noticed Fido's grooming sessions are costing a bit more these days? With inflation causing major price hikes in human needs like food, gas and housing, other areas like pet care have inevitably seen an increase, too.
The good news? You can spruce up your pup at home with a little DIY help. Trimming your dog's fur at home is a cost-effective way you can keep your best friend's coat nice and tidy in between professional grooming visits while spend time with your canine companion.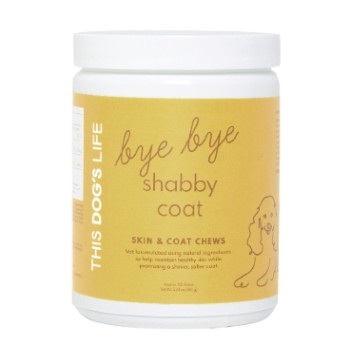 Bye Bye Shabby Coat nourishes your dog's skin and coat from the inside out. Veterinarian formulated and using powerful natural ingredients, including healthy omegas, salmon oil, and vitamin E, our chews help heal dry, itchy, irritated skin, while also promoting a shinier and softer coat. All our supplements are proudly manufactured in the USA.
$27.99
But there are a few must-know tips to make sure your dog's at-home grooming session is a success. We spoke with award-winning celebrity pet stylist Ashley Ann, also known as the "Grooming Extraordinaire," to get the scoop.
Related: 10 Easy Ways to Cut Down on Dog Care Costs
Essential Types of Scissors for At-Home Grooms
Not sure what kind of scissors you'll need before you get started? Ann has a few she considers a must for grooming at home.
"I recommend keeping a small pair of ball-tipped shears at home. These shears are great for cleaning out the fur in the eye area," she says. (The fur in this area tends to grow back the quickest and might need to be trimmed frequently compared to other areas.)
The rounded tip will prevent you from poking your pooch by accident. However, in any case, you'll want to be especially careful using scissors near your dog's eyes.
Ann says it is also ideal to have a pair of small curved shears and thinning shears for minor clean-ups, as fur on the ears, feet and tail can grow quickly on some breeds. "If you have a pup who has 'grinch toes,' as I like to call them, curved shears are perfect for scissoring," the master stylist says.
You can either purchase these individually or find a dog grooming kit that includes each pair of scissors. 
"Owning a home grooming kit can be very essential to parents that have dogs that are considered higher maintenance," Ann says. "Usually, pets who have medium to longer-length coats require grooming in between spa visits."
Ann highly recommends avoiding trying to do any "professional" grooming at home to prevent unwanted injuries. You'll want to keep it simple for at home-grooms (think: touch-ups). And if you want that adorable teddy bear cut for your pup, find a professional dog groomer who can easily (but most importantly, safely!) get the job done.
Related: Finding the Perfect Dog Groomer for Your Dog
5 Must-Have Pet Scissors
There are thousands of different grooming products to choose from. As someone new to basic maintenance grooms, picking high-quality scissors can certainly be a daunting task.
Fear not! If you're looking for the best of the best, Ann shares five pairs of shears she swears by.
Roseline curved shears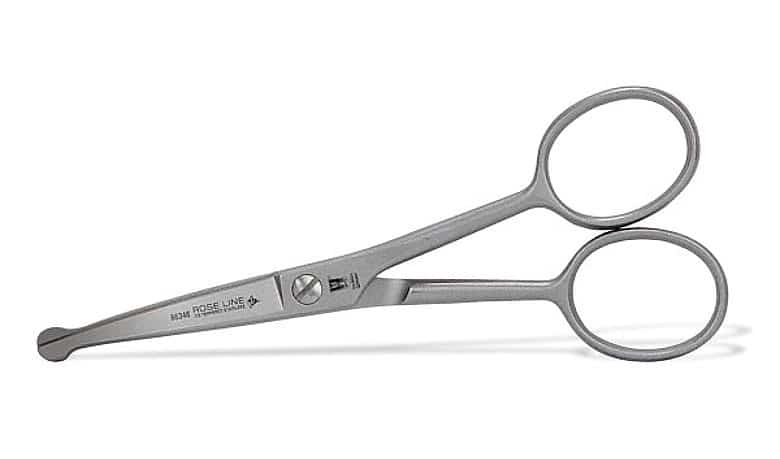 These are the perfect shears to achieve anything round from the face, paws, ears and tail. (Hello, puppy cuts!) They're Ann's go-to for every grooming session. 
Sensei chunker shears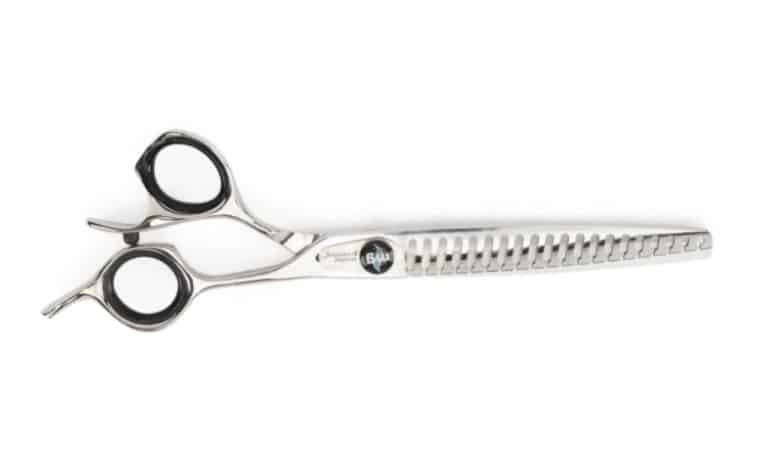 When Ann wants to cut down on her scissoring time, she uses a pair of Sensei chunker shears. "Bulking scissors are the best shears for my long, fluffy breeds, such as Shetland Sheepdogs, Collies, and Golden retrievers," she explains.
Geib black pearl thinning shears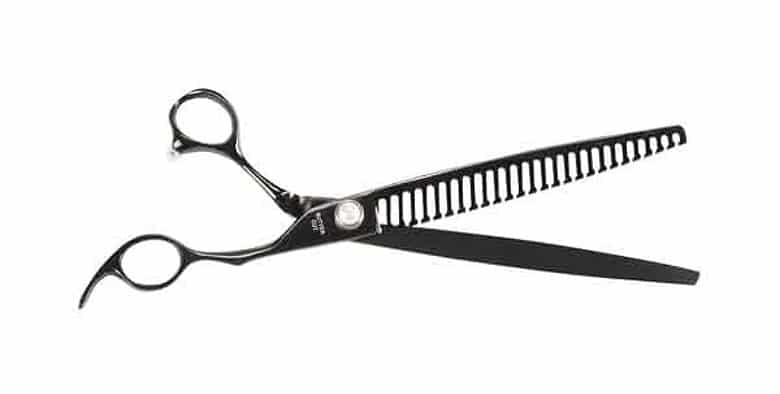 This pair of shears are Ann's holy grail when grooming. They cut like butter and work best for shaping and blending your dog's coat, especially if there are any clipper lines.
Roseline straight shears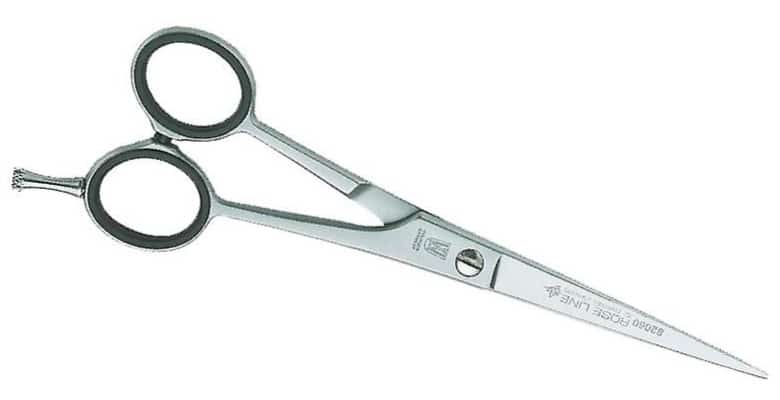 If you're looking for a straightforward scissor you'll reach for time and time again, this is it. Ann considers these scissors to be ideal for regular, everyday use. She says, "When I need to snip something off here or there, I usually go for my straights."
Roseline double-sided blending shears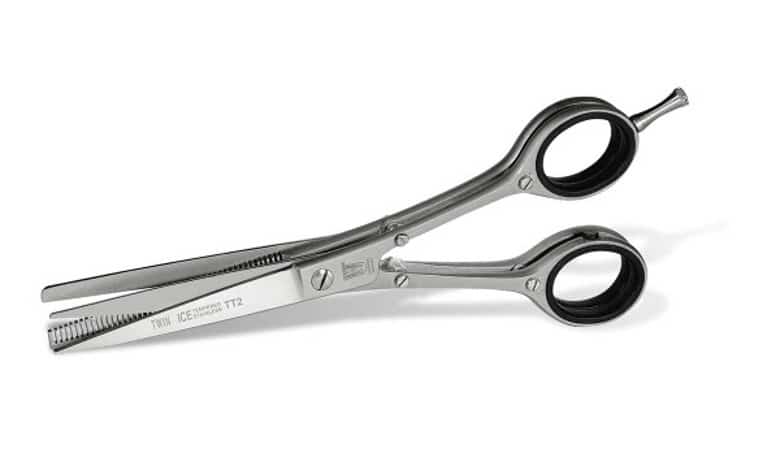 Does your dog have a thick coat? These shears can help thin your dog's coat and are also suitable for dogs with thin coats, too. "The double-sided shear is one of a kind — two scissors in one!" Ann says. This shear removes unwanted weight from your dog's coat and is useful for fast blending.
Related: Dog Groomer on TikTok Shares Industry Tips We All Need to Know
Tips on How to Use Scissors for At-Home Sessions
While you don't have to be a professional to give your dog a quick, basic trim, it's important to be patient, cautious, and positive when it's time to groom your pet.
Ann stresses the importance of safety and your dog's well-being when grooming.
"Grooming can be very dangerous. Dogs wiggle, get startled, fight and pull, and it is so easy for an accident to happen," Ann says. "The last thing you want to do is cut your dog at home and leave a negative impact on the grooming process; which, ultimately, results in higher anxiety, aggression and other behavior-related issues."
Picking up a pair of scissors and grooming your dog can sound intimidating – even scary – at first, but it can be a safe, stress-free process for dog parents of all experiences with the right advice and preparation.
If your goal is to create a stronger bond with your dog by doing grooming maintenance in between sessions, Ann highly recommends doing your due diligence.
Take a grooming course. This can be completed online or in-person.
Communicate with your groomer. Ask questions, and see if they'll be able to teach you: how to handle tools, proper techniques and where to cut. ("Make sure you always have sharp tools and never cut a dog with any dull tools.")
Invest in the proper equipment to groom your dogs at home. (e.g. a grooming table, preferably a small, compatible one to minimize your dog's range of movement.)
And remember, for most of us, our at-home grooming sessions are for tidying up between professional appointments. Leave anything beyond the easy trims to the pros.